Romania, Bulgaria and Greece Tour
Romania, Bulgaria and Greece Tour
See the home of the original "Dracula" in Romania, the Tombs of the Thracian Kings in the Valley of Roses in Bulgaria and the stunning Meteora Rock Monasteries in Greece – and these are just the highlights of this incredible 11-day tour…
Your friendly and fully licensed guide will be showing you the very best of the Balkans – including Bucharest, medieval Veliko Tarnovo, Plovdiv and Thessaloniki have to offer.
Plus, you'll see the natural beauty of the rose valleys and mountain monasteries of Bulgaria.
Your itinerary is open to changes. How about an airport pick-up? An extra "free" day for exploration? We'll customize your itinerary and create an ideal tour just for you.
Tour highlights
A city tour of jaw-dropping Bucharest, Sinaia, Bran Castle (of Dracula fame), Sighisoara Castle and Vlad Dracul House, city tour of Sibiu, Veliko Tarnovo (the City of the Tsars), Tsarevets Fortress and craft street, Plovdiv (the European Capital of Culture), Shipka Pass, the Valley of Roses and Tombs of the Thracian Kings, Sofia city tour, Bachkovo and Rila Monasteries and optional wine tasting, Thessaloniki city tour and the Meteora Rock Monasteries.
Your tour price includes
Insight and knowledge – your tour guide or driver will always be on-hand to assist you during your trip. They will offer cultural and historical insight.
Easy itinerary customization – personalize your itinerary to include extra trips or do the tour in reverse! Whatever makes sense for your travel plans.
No hidden charges – you'll get a free, no-obligation quote alongside your itinerary. It will show everything your tour price includes.
Your privacy – we take both small and large group bookings of up to 50 people. Each is always a private tour experience.
Spacious, air-conditioned vehicles – all of our minivans have plenty of legroom and full air conditioning so you travel in comfort.
11-Day Romania – Bulgaria – Greece Itinerary
→ Visit the Bachkovo monastery in the morning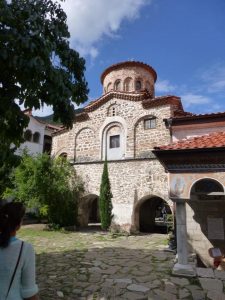 → Walking city tour of Plovdiv and free time in the afternoon
Visit The Old town from the 19th century; the Ethnographic museum (outside); Balabanov house; the Ancient theatre of Philippopolis; the Ancient stadium of Philipopolis, The St St Constantin and Elena church, The Djumaya mosque and square, The building of the Regional Historical Museum, Saint Ludvik cathedral, Agara (Marketplace), the Main walking street, "The Trap" neighborhood; Nebet tepe)
→ Free time in Plovdiv in the afternoon
Overnight in Plovdiv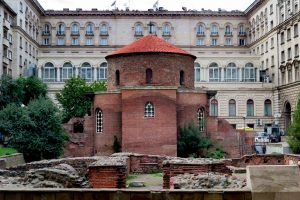 → Transfer to Sofia, Bulgaria
→ City tour and free time
Visit the: St. Nedelya square; Nedelya church; St Sofia Monument; St. Petka Church; The old Serdika Ruins; The mineral springs; The council of ministers; The Rotunda "Saint George"; The Presidency; The mosque "Banya Bashi"; The National archaeology museum (not going inside); The National Bank of Bulgaria; Knyaz Alexander Battenberg Square; The King's palace; The Russian church; St. Sofia Church; The National Theater; The Monument of the "unknown soldier"; The Alexander Nevski Memorial Church; The city garden.
Overnight in Sofia
Fire us a short email (or a long one!) or fill in our form to send us more details about your trip.
You'll soon receive your personal itinerary and free, no-obligation quote.
LET'S START PLANNING YOUR TOUR!
Our tours are private and customized around your interests
GET A QUOTE