Include Kosovo in your Balkan tour
Touring the Balkans cannot be complete without paying Kosovo a visit. The country has much to show in terms of beauty and it's of particular importance for those passionate about history.
Have Balkan Tales weave in Kosovo in your tour easily and trust that:
A local, licensed tour guide will show you sides of Kosovo few travelers get to see and assist you in any situation.
Your tour itinerary is going to be adjusted for the requirements of your group – small or large.
Accommodation, transportation and organization are going to be of the highest standard.
Don't know where to start? Below we bring you some of our places to go to jumpstart your inspiration.
Balkan Tales tailors your tour to your passions and hobbies, so tell us what you want to do.
Currency: Euro
Population: 1.83 million
Religion: 88% Muslim, 6% Roman Catholic, 3% Orthodox Christian
Language: Albanian is dominant language in Kosovo, equal status is given to Serbian.
Cities to Stay
We recommend 2 Kosovo major cities for overnight stay – Pristina, the capital, and Prizren – the cozy and sweet historical city.
Pristina
Coffee in Pristina is the best. Pristina is the youngest capital city in Europe
The Kosovo's capital is very interesting place for those who are interested in Balkan history. Even that Pristina is a capital city, you can see all its attractions in a day.

Things to do in Pristina
Take a photo on the NewBorn monument
Find the library and see all details of the architecture
Take a walk in Germia park
Visit the local market and buy fresh vegetables and fruits.
There you will also find the ruins of the Great Hamam and the mosque.
Prizren
Prizren is the most ethnically mixed municipality with large numbers of Bosnians, Turks, Roma, Gorani and Terbesh.
This picturesque historic city of the Prizren is located near the Šar Mountain slopes. It's dotted by mosques, churches and monuments. A half day in Prizren is pretty enough to visit all its landmarks, which makes the city very popular "day tour" destination from Pristina, Kosovo or Skopje, North Macedonia.

You will find all landmarks in the center starting from the Shadervan area, where you will find an ancient fountain. Sip from the water if you want to come back, or just if you are thirsty.
Things to do in Prizren, Kosovo
Walk along the stone bridge over the Bistrica river and head to the UNESCO protected Our Lady of Ljevis, a 14th century monastery.
Visit the Sinan Pasha Mosque, standing since 1615 and overlooking the main street.
Don't miss the Prizrenska Tabahana, or the Tannery and Leatherworks handicraft building.
Places to visit
When in Kosovo, make sure you visit these places of interest.
Gazivoda Lake
Gazivoda is an artificial lake, the largest in Kosovo.
Most of the lake belongs to Kosovo, and a small part to Serbia.
The lake is fed by the Ibar, a river has been dammed.
The average depth is 105 meters. The landscapes, hills and meadows are picture perfect. The meadows are dotted by flowers in summer. Nearby is the Duboki Potok, a 14th century monastery, where you will find the hand of a martyr Saint Nicetas, and handwritten  medieval books.
Peć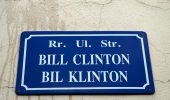 The city is near the Rugova Canyon, a spot of exceptional nature, and the access area to mountains.
Near Peć, skiing and paragliding are favorite leisure activities.
The bazaar, destroyed in the wars, is now a rebuilt area, with the Bajrakli Mosque, also destroyed in war times, and rebuilt. Nearby is the Patriarchal Monastery, from the 13th century. Another ancient remnant is the Hamam, the bath building from Ottoman times. The mountains are auspicious for paragliding, so even international contests in the sport are held.
Things to do
Dark tourism
In Pristina, Jews were sheltered in World War II times, and their cemeteries now can be visited as a site.
Kosovo Polje, near Pristina, was a site for raging violence in the war of 1998-1999.
Prekaz village, near Pristina, is a site of the famous massacre in 1998, implemented by Serbian units.
In the attack on Prekaz, the liberation movement leaders, brothers Jashari were killed together with over 60 other people. Not only the 14th century battle of Ottomans and Serbians, but also centuries later, the war left its marks on the small town of Polje. The refugee camp for Serbs and for Romas still stands, now mostly inhabited by Roma families.
Festivals
UNESCO
Serbia doesn't recognize Kosovo as an independent country and considers all UNESCO sites located there as a part of its territory. All the UNESCO World Heritage Sites in Kosovo's territory are of Serbian legacy and of great religious and cultural importance for ethnic Serbs.
The Visoki Dečani Monastery
Patriarchate of Peć
Gračanica Monastery (extension of Dečani)
The Church of the Lady of Ljeviš
Take Your Tour through Kosovo Today!
Its easy to get Balkan Tales to put together your Kosovo trip itinerary. Get in touch with our team to start work on your itinerary and send us your answers to our questionnaire. In a few days your tour is going to be customized!
LET'S START PLANNING YOUR TOUR!
All our tours are private and customized around your interests.
GET A QUOTE