Montenegro and Albania Tour
Montenegro and Albania Tour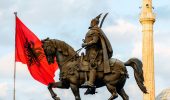 From inland cities to coastal villages and everything in between, your tour of Montenegro and Albania will include all of the unforgettable sights which these two Balkan nations have to offer.
With a melting pot of architectural styles in the towns and cities and jaw-dropping natural beauty, both of these countries have stretches of the stunning Adriatic coastline under their sway.
On your private tour, your fully licensed, English-speaking guide will  show the best of local culture and cuisine while giving you insight into their unique history.
Tour Highlights
The unique towns of Podgorica, Budva on the Adriatic Coast, Cetinje, the Ostrog Monastery, Kotor (with everything its beautiful bay, palaces and harbour have to offer), a boat trip on Skadar Lake, optional wine tasting, Kruje fortress and old town, a city tour of Tirana, Albania's capital, Berat, Sarande, Gjirokaster, the Blue Eye Nature Site and village exploration day.
With us you get
Private service – your helpful guide is there toassist you as well as speak about the history and culture of the local area.
Your unique itinerary – we will adjust pick ups, drop offs, tour pace to your preferences. With us, your itinerary is always unique.
A clear quote – we include all costs associated with your tour in the free, no-obligation quote we provide with your custom tour itinerary.
A private tour – all the tours we run around the Balkans are private. It will be just you and your chosen few.
Safe, modern travel – all of your travel will be in spacious, modern minivans fitted with full air conditioning.
8-Day Montenegro and Albania Itinerary:
→ Day tour to Kotor Bay
Visit the Kotor Old Town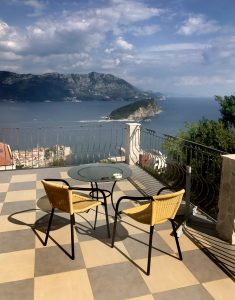 → City tour and free time
Visit the Kotor old city, Kotor harbour, city walls, St Tryphon cathedral, St Nicola church, Piaza of the arms, Church of St Luke, Gurdich gate, Clock tower, Grubonja palace, Karampana well, Drago palace, Pima palace, Beskuca's Palace, Grgurina Palace, Bizanti Palace, Prince's Palace, Sea gate, Old Kotor prison building
→ Transfer back to Budva
Overnight in Budva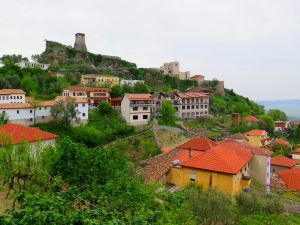 → Transfer to Kruje, Albania
→ Explore the Birth place of Skanderberg
Visit the fortress and the old part of town
→ Transfer to Tirana
→ City tour of Tirana
Visit the "Skanderberg square" (The main square in Tirana) with the Skanderberg Statue; the "Ethem bey" mosque (the Only historical mosque in Tirana) the "Enver Hoxha" pyramid, the Peace bell, the Building of the historical museum of Tirana, a Preserved bunker (In one of the bunkers there is a museum about the victims of the Albanian Communist regime) Maria Theresa boulevard, the University of Tirana, the Old government square; The Clock tower (19th Century)
Overnight in Tirana
Let us know the details of your tour of Albania and Montenegro today.
We'll create your personalized Balkan trip itinerary and provide a clearly costed quote for free and with zero obligation.
LET'S START PLANNING YOUR TOUR!
Our tours are private and customized around your interests
GET A QUOTE