Albania and North Macedonia Tour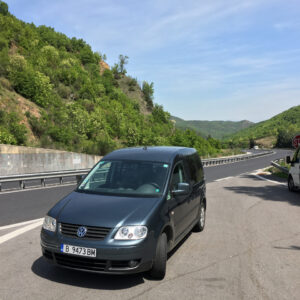 For people in Western Europe, the incredible histories of places like Albania and North Macedonia are often occluded.
In our Hidden Histories tour itinerary you'll see how and where the people and culture of these two unique nations have journeyed through the ages.
From the wonderful natural landscape to ancient fortresses, monasteries to the most exciting modern urban centers, you'll get the full flavor of Albania and North Macedonia on this 7 day tour.
Highlights: Skopje in North Macedonia, the Mavrovo National Park, beautiful Ohrid with its lakes and monuments, Berat fortress and old town in Albania, Sirande city and the stunning natural world around it, Vlore, Kruje fortress and Tirana.
What your tour price includes
Local insights and knowledge – learn from a friendly local guide whose expertise lets you interact with the people and history of Albania and North Macedonia.
A fully customized tour – would you prefer to do the tour back-to-front? How about skipping a site or adding one? We will always personalize your tour to your wishes.
No hidden fees – All the fees associated with your tour will be clearly listed upfront.
Private tours and large groups – small groups are our forte but we can also cater to large group bookings of up to 50 people.
Travel in spacious vehicles – our modern minivans and vans have plenty of legroom and air conditioning.
Albania and North Macedonia Itinerary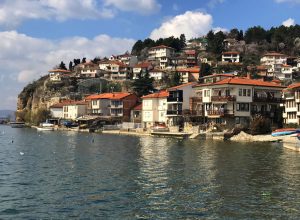 → City tour of Ohrid in the morning
Visit the Ohrid lake, the Monument of St. Naum of Ohrid, the Monument of St Kliment Ohridski, Catcher of a cross monument, the Church of St. Sofia (Ancient Ortodox Church) "St Kiril and Metodius" monument, the Ancient theatre of Ohrid; the St John at Kaneo church. (Historical church with lake views); Church of Saints Clement and Panteleimon; Plaostnik (Monastery and archaeological site)
→ Visit the St. Naum Monastery OR spend the time around the lake
Overnight in Ohrd
→ Transfer to Kruje
City tour of the fortress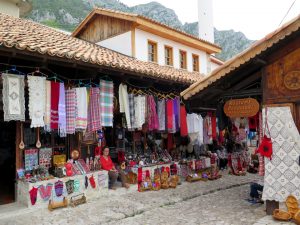 → Transfer to Tirana
→ City tour and free time
Visit the "Skanderberg square" (The main square in Tirana) with the Skanderberg Statue; the "Ethem bey" mosque (the Only historical mosque in Tirana) the "Enver Hoxha" pyramid, the Peace bell, the Building of the historical museum of Tirana, a Preserved bunker (In one of the bunkers there is a museum about the victims of the Albanian Communist regime) Maria Theresa boulevard, the University of Tirana, the Old government square; The Clock tower (19th Century)
Overnight in Tirana
→ Transfer to the airport at convenient time
→ Depart from Tirana
End of the tour
Tell us about your dream tour itinerary
This tour is completely open to changes based on your personal preferences and dreams.
Send us a quick email or fill in the form below to tell us how we can alter your Albania and North Macedonia trip into your ideal getaway.
LET'S START PLANNING YOUR TOUR!
Our tours are private and customized around your interests
GET A QUOTE