Include Slovenia in your Balkan tour
Balkan Tales provides private guides and tours all over the Slovenia region, catering to small or large groups to have an exceptional time. The destination is popular all around, whether you seek an adventure or prefer cultural attractions of Slovenia.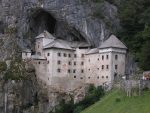 We can add Slovenia to your multi-country tour easily:
Planning is extremely flexible to accommodate your interests and preferences.
We can pick you up and drop you off wherever you require and you can count on comfortable transport for the entire duration of your tour around Slovenia.
Your tour guide will make you feel like you're on a road trip with friends.
Consider where to start on your tour of Slovenia with our list of suggestions.
Balkan Tales has had many successful tours in these locations, but we can also include any special attraction you want!
Currency: Euro
Population: 2.067 million
Religion: Catholic Church mostly.
Language: Slovenian with minorities speaking Hungarian and Italian.
Cities to Stay
When in Slovenia, Ljubljana is the city to stay overnight! Make sure you take a guided walking tour.
Ljubljana
The Slovenian capital is very small, but adorable city which represents the meeting of East and West cultures, architecture, food and mentality. There are many things to do in Ljubljana, however you can visit all of them for a day. The Ljubljana city's symbol is a dragon and can be seen on the Dragon Bridge and Ljubljana Castle which rises on a hill over the city

Things to do in Ljubljana
Try the specialties of the best Slovenian and international restaurants every Friday on the little square by St. Nicholas church which changes into a market of different flavors.
Drink a coffee on the top of the Nebotičnik, a modern building builtin 1930, rises to over 70 meters height, with shops, offices, private residences; on the top floor are an observation desk, a cafe, and a bar.
Take the funicular from the center to the Ljubljana Castle and enjoy the view
Stand Up Paddleboarding on the Ljubljianica River
Take a look at the street art at Metelkova Mesto
Swim to the galaxy of fun in the Slovenian museum of illusions
Places to visit
Lake Bled
The Bled lake, glacial and tectonic in origin, is not far from Ljubljana.
It is over 2km long, around 1,400m wide, and almost 30m ideep.

The environment of the lake combines forests and mountain scapes. On the north stands the Bled Castle, dating from Middle Ages. On an island in the lake several buildings are located. The most visited one, the church dedicated to Mary's Assumption, dates from the 17th century. Its tower is 52 meters high, and a staircase with 99 steps leads to the building.
Postojna Cave
Postojna Cave is a long cave system with karst caves, in southwest Slovenia.
The caves were shaped by the flowing of the Pivka river and spread along over 24 km.

In 1872, the first train for the transporting of tourists started its operation. Another modernization was the replacement with electric locomotives. Now 5.3 kilometers are open to be visited by tourists. Cave divers are exploring sections of this huge system of caves.
Triglav National Park
Being Slovenia's only national park, Triglav is unmissable.
It lies in an alpine massif, and comprises the Triglav Peak.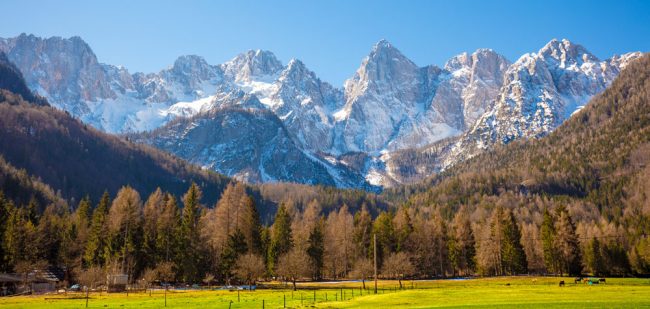 Now the park area is 880 square kilometers, which makes up 4% of Slovenia's territory. The species of plants, including medicinal ones, are over 59. Look for waterfalls which are numerous. Most waterfalls are in the valleys where the Soča and its tributaries flow. The water of Boka Falls, the highest one, falls from 106 meters. The largest glacial lake is Bohinj; other lakes worth visiting are Triglav Lakes and Lake Krn.
Things to do
What to do in Slovenia?
Visit the Postojna cave and Predjama castle
Go hiking in the summer
Explore the winter sports snowboard and skiing
Visit Metelkova – Sprawling alternative music and art center
Hiking
Slovenia has great conditions for captivating hiking tours, in its only national park, Triglav, in the Julian Alps.
The most impressive lake is Bled, near the capital Ljubljana.
You can do hiking tours with different difficulty grades. The abundance of ridges, valleys, meadows along  the international Via Alpina is enchanting with alpine scapes. Via Alpina will show off quiet but uniquely charming mountain villages. It will also lead you to the famous lakes Bled and Bohinj.
Caving
With over 10,000 caves, Slovenia is a worthwhile place for caving experiences.
The Postojna is a caving system of impressive length, with around 5 out of the 24 kilometers of it which can be walked.
Škocjan Cave is UNESCO's site of heritage importance, with a massive underground canyon.
Sightseeing
From Ljubljana, visit the Postojna, an impressive cave system, and lake Bled.
Triglav, the country's nature park, will show the mountainous part of Slovenian nature.
From Kobarid, near the Soča river, one of the most stunning Slovenian waterfalls, Great Kozjak, will expect you.
Postojna is impressive with its underground tunnel. In and by the large lake Bled, the features will provide unique experiences. Great Kozjak waterfall is approached via a spectacular route, with a bunker from World War I; below the fall, a pool is formed. For historic sightseeing, visit Predjama, a castle dating from Renaissance times and housed in a cave mouth, by the Postojna town. In the castle, some movie scenes have been shot.
Festivals
Festivals in Slovenia
Kurentovanje – International Carnival in Ptuj.
Days of National Costumes and Clothing Heritage Festival
Grossmann Fantastic Film and Wine Festival
Mladi Levi – International festival of dance and contemporary theater
Salt Pans Festival in Piran
Chocolate Festival in Radovljica
Cherry Festival in Goriška Brd
Here you can see the list of all festivals in Slovenia for 2020
UNESCO
UNESCO sites in Slovenia
Cultural (2)
Heritage of Mercury. Almadén and Idrija (2012)
Prehistoric Pile Dwellings around the Alps (2011)
Natural (2)
Ancient and Primeval Beech Forests of the Carpathians and Other Regions of Europe (2007,2011,2017)
Škocjan Caves (1986)
Creating your travel itinerary is a collaborative process. Write to Balkan Tales an e-mail how
you imagine your private guided tour to Slovenia to happen and you will receive a price estimate.
LET'S START PLANNING YOUR TOUR!
All our tours are private and customized around your interests.
GET A QUOTE